Profile
I'm a creative front end developer
---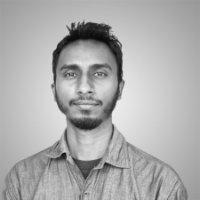 About me
I am a front-end developer and at times UI designer. I possess good knowledge of front-end techniques, love structure and order and also stand for quality. I love spending time on fixing little details and optimizing web apps. Also, I like working in a team as it helps me learn faster and more. As the saying goes, "two heads are better than one".
Details
Name:
Sarfaraz Ansari
Age:
Location:
Indore Madhya Pradesh INDIA
Experiences
"Being happy doesn't mean that everything is perfect. It means that you've decided to look beyond the imperfections."
- Anonymous
---
Careers
Walkover Web Solutions Pvt. Ltd.
Feb 2012 - June 2019
Fulltime - Front End Developer & UI Designer Walkover is a startup that began with selling bulk SMS and hosting services. Later, Walkover introduced its products in the market, MSG91 an enterprise messaging solution, GIDDH an online bookkeeping software, viaSOCKET for API management. It is in these major products that I am responsible for UI and front-end part. I used to do wireframes and codes. It is on these products that I got a chance to do some fantastic work, learned a lot and we still continue to develop software. https://www.walkover.in
Red Vision
Apr 2011 - Nov 2011
Fulltime - Junior Web Designer Creating solutions that meet or exceed strategic objectives and concepts. Converting web page layouts into cross browser compatible HTML templates. Participating in client meetings and brainstorming sessions. Providing quality assurance on all deliverables. http://redvisiontech.com/
Abilities
"Life without knowledge is death in disguise."
- Talib Kweli
---
Skills & Tools
Node (Express, redis, pug, mongo)

Javascript (Ecmascript)

Electron

Angular, Angularjs

Typescript

SASS

Command line

Package Manager and Task runner (yarn, npm, gulp, grunt, webpack)

CSS(3)

HTML(5)

PHP

JQuery

Wordpress

Git
---
Languages
---